The Ultimate Guide to Creating a Dust Bath for Your Chickens.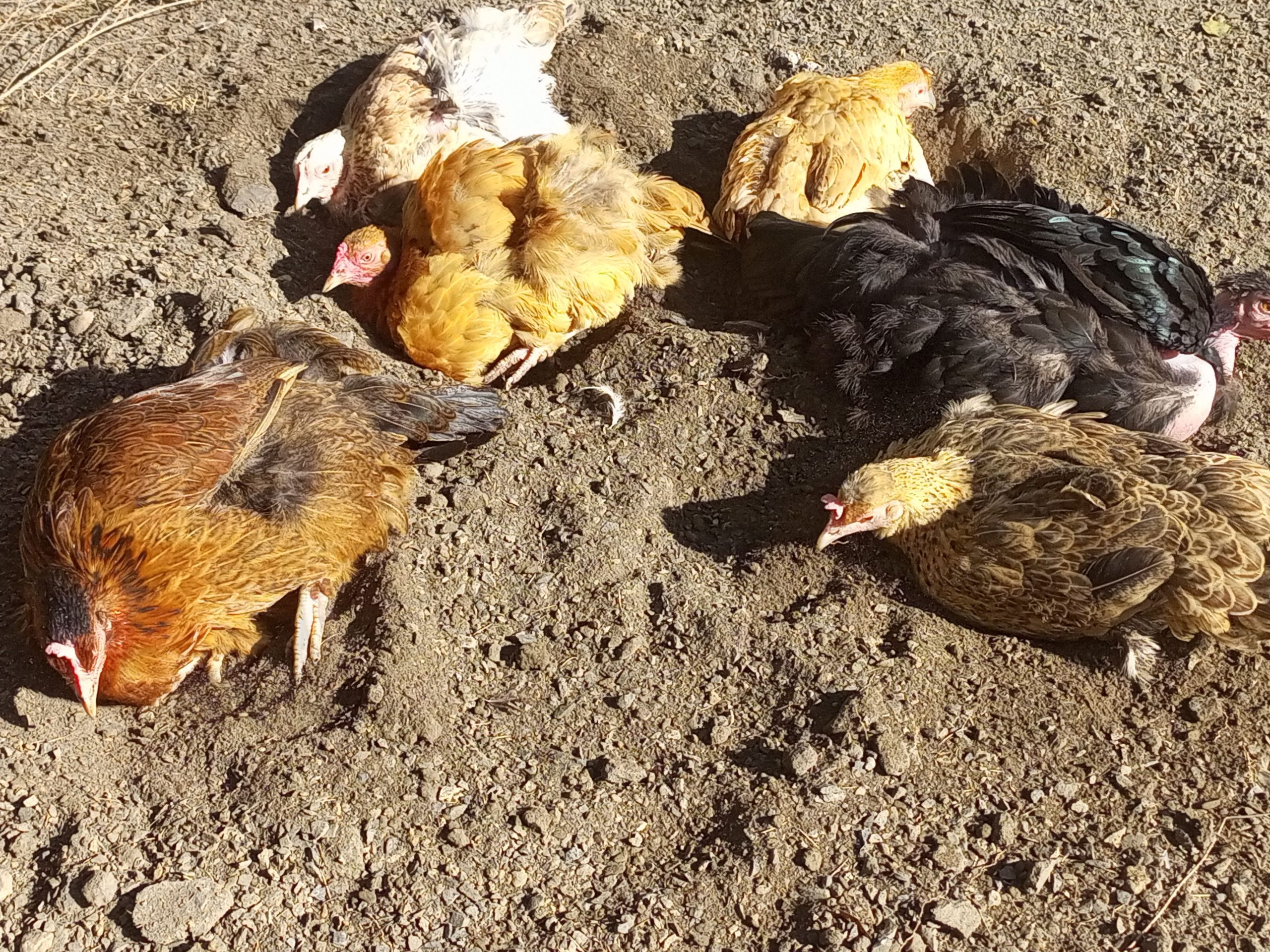 I know the importance of providing my feathered friends with a comfortable and healthy environment. One of the most natural and effective ways to achieve this is by creating a dust bath for them. Not only does it allow chickens to maintain their hygiene, but it also helps prevent parasites and mites.
In this article, I will share my personal experience and insights on creating a dust bath for chickens. So, let's dive in and discover how to keep our beloved flock healthy and happy!

Understanding the Benefits of Dust Bathing
Dust bathing is an instinctive behavior for chickens. When they engage in this activity, they roll and flutter in a designated area filled with dust or fine substrate. This behavior helps them remove excess oils, dirt, and parasites from their feathers, promoting overall cleanliness and hygiene. By encouraging dust bathing, you're providing your chickens with a natural defense against common pests like lice, fleas, and mites. Additionally, dust bathing offers mental stimulation and relaxation for your flock.
Selecting the Right Location for the Dust Bath
Finding the perfect location for your chickens' dust bath is essential. It should be an area that is easily accessible for the chickens and provides them with enough space to comfortably roll and flutter. Ideally, choose a spot with loose soil or sandy ground, as these materials facilitate effective dust bathing. Consider placing the dust bath in a shaded area to protect your chickens from excessive heat or direct sunlight. Remember, chickens are creatures of habit, so choose a location that suits their preferences.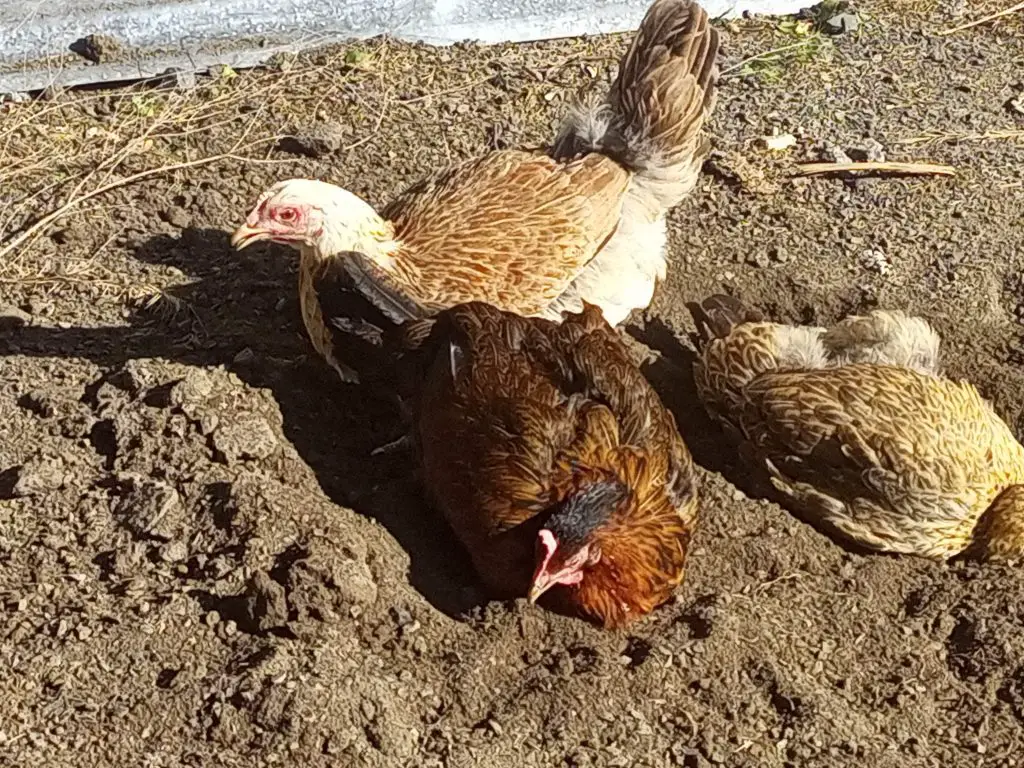 Natural Ingredients for an Effective Dust Bath
When creating a dust bath for your chickens, you have a variety of natural ingredients to choose from. Here are some popular options:
Diatomaceous Earth – Food Grade Diatomaceous Earth (DE) food grade is one of the most common ingredients used in dust baths for chickens. It is a natural product made from the fossilized remains of diatoms, a type of algae. DE is known for its ability to kill parasites and insects like lice, fleas, and mites. It is also safe for chickens to ingest and has many other benefits such as improving digestion, promoting healthy feathers, and strengthening bones. To use DE, simply mix it with dirt or sand and provide it in a container for your chickens to dust bathe in.
Wood Ashes – Wood ashes are another popular ingredient used in chicken dust baths, especially during the winter months when chickens are confined to their coops. Ashes from a wood-burning stove or fireplace can be used to create a dust bath as they contain potassium and calcium, which help to repel lice and mites. It is important to note that ashes from charcoal, coal, or treated wood should not be used as they may contain harmful chemicals that can harm your chickens.
Dirt – Believe it or not, plain old dirt is still one of the most popular ingredients used in chicken dust baths. It is easy to come by and provides a natural substrate for chickens to roll around in. However, it is recommended to add other ingredients like DE or wood ashes to help control parasites and odor.
Monday's Best Dust Bath – Monday's Best Dust Bath is a natural product that is safe for chickens and has multiple benefits. It contains diatomaceous earth, which helps to control parasites and insects, as well as zeolite, which helps to reduce ammonia and odor. It also contains essential oils that have antiseptic and antibacterial properties, which help to keep your chickens healthy. Monday's Best can be added to the soil or used directly in the coop.
Sweet PDZ – Sweet PDZ is a natural mineral product that is used to control ammonia and odor in animal environments. It is made from zeolite, which is a volcanic mineral that can absorb moisture and odors. Sweet PDZ is safe for chickens to use in their dust baths and can also be added to the coop bedding to help control odors.
Sand – Sand is another popular ingredient used in chicken dust baths, especially in areas where the soil is heavy and clay-like. Sand allows for better drainage and also helps to exfoliate the skin of your chickens, which can promote healthy feathers.
Herbs – Adding herbs to your chicken's dust bath can provide some additional benefits. Herbs like lavender, mint, and chamomile can have a calming effect on your chickens and can also act as natural insect repellents. Simply chop up the herbs and mix them into the dirt or sand in the dust bath.
Baking Soda – Baking soda is a natural deodorizer and can help to neutralize odors in your chicken coop. It can also help to balance the pH levels of your chicken's skin, which can help to prevent infections. Simply mix some baking soda into the dirt or sand in the dust bath.
Seaweed – Seaweed is a great source of minerals and can provide some additional health benefits for your chickens. It is also known to repel mites and other parasites. You can either use dried seaweed or fresh seaweed that has been rinsed thoroughly.
Oyster Shells – Oyster shells are a great source of calcium, which is important for the development of strong eggshells. They can also be used in the chicken dust bath as a way to provide some additional minerals and to help sharpen your chicken's beak. Simply crush the shells into small pieces and mix them into the dirt or san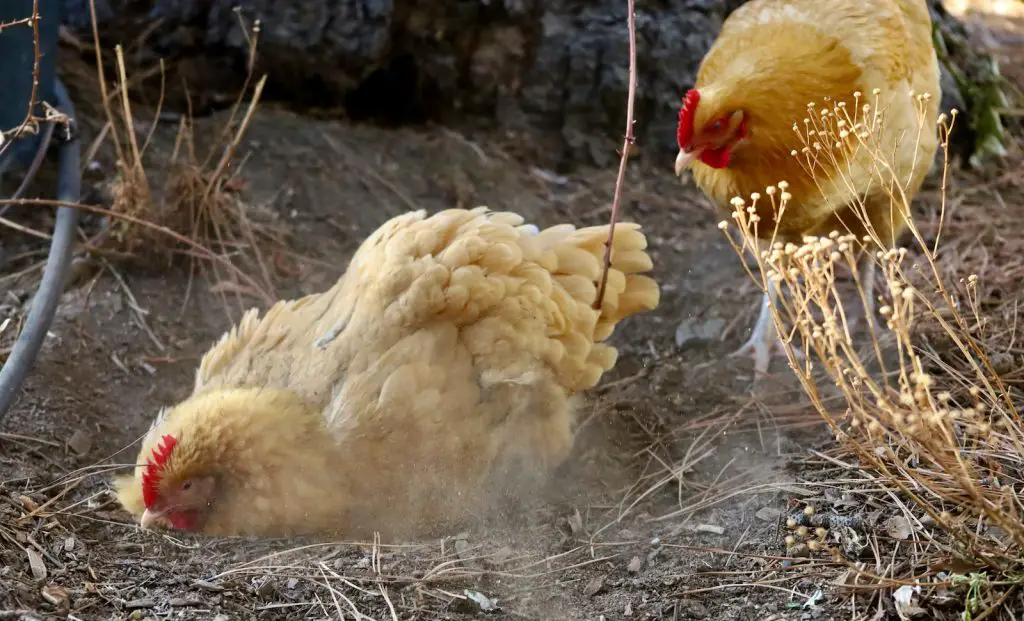 Creating the Perfect Dust Bath
Now that we've explored the various ingredients, let's dive into the steps for creating the perfect dust bath for your chickens:
Choose a suitable container: Select a container or area large enough for your chickens to comfortably dust bathe in. It should be easy for them to enter and exit, and spacious enough for them to roll and flutter without feeling cramped.
Prepare the dust bath area: If you're using a designated area instead of a container, clear the space of any debris or sharp objects that could harm your chickens. Level the ground and ensure it is firm but not compacted, as loose soil or sand provides the ideal substrate for dust bathing.
Determine the depth: The dust bath should be at least 6 inches deep, allowing your chickens to fully immerse themselves in the dust. This depth ensures effective dust penetration through their feathers and onto their skin, helping to combat parasites and keep them clean.
Mix the ingredients: If you're using a mixture of ingredients like diatomaceous earth, wood ashes, or Monday's Best Dust Bath, combine them thoroughly in the container or spread them evenly in the designated area. Aim for a well-mixed blend that allows your chickens to access the benefits of each ingredient.
Introduce your chickens to the dust bath: Place your chickens near the dust bath and allow them to explore it at their own pace. Chickens are naturally curious creatures, and they will soon discover the joy of dust bathing. You may need to guide them initially by gently lifting and placing them in the dust bath, demonstrating the desired behavior.
Monitor and maintain the dust bath: Regularly observe your chickens to ensure they are using the dust bath and that it remains clean. If you notice excessive soiling or contamination, it's time to replace or refresh the dust bath material. Consider cleaning the container or designated area periodically to maintain hygiene.
Maintaining a Clean and Healthy Dust Bath Area
To ensure the longevity and effectiveness of your chickens' dust bath, it's crucial to maintain a clean and healthy environment. Here are some tips for keeping the dust bath area in optimal condition:
Regularly remove debris: Clear the dust bath area of any feathers, droppings, or other debris that may accumulate over time. This helps prevent the build-up of bacteria or parasites.
Replace soiled material: If the dust bath material becomes excessively soiled or contaminated, it's important to replace it promptly. Dirty material can harbor pests and potentially cause skin irritations or infections.
Keep the area dry: Moisture can interfere with the dust bathing process and create an environment conducive to the growth of harmful bacteria. Ensure the dust bath area remains dry by providing proper drainage or covering it during rainy periods.
Monitor for signs of pests: Regularly inspect the dust bath area and your chickens' feathers for signs of parasites or infestations. If you notice any issues, take appropriate measures to address them promptly, such as implementing natural pest control methods or seeking veterinary advice.
Safety Considerations for Dust Bathing
While dust bathing is generally a safe and beneficial activity for chickens, it's important to keep certain safety considerations in mind:
Avoid sharp or abrasive materials: Ensure that the dust bath area does not contain sharp or abrasive objects that could harm your chickens' delicate skin. Opt for soft and smooth materials like fine sand or sifted soil.
Prevent overcrowding: If you have a large flock, it's essential to provide an adequate number of dust bath areas to prevent overcrowding. Overcrowding can lead to stress, aggression, and an increased risk of spreading diseases.
Monitor dust bath duration: While dust bathing is enjoyable for chickens, excessive or prolonged dust bathing can indicate potential health issues. Monitor the duration of their dust baths to ensure it remains within a reasonable timeframe.
Customizing the Dust Bath for Individual Preferences
Every chicken is unique, and they may have individual preferences when it comes to their dust bath. Consider observing your chickens closely to determine if they have specific preferences for certain ingredients, textures, or locations. By customizing the dust bath to suit their preferences, you can enhance their overall satisfaction and enjoyment.
Signs of a Healthy Dust Bathing Routine
It's essential to monitor your chickens' dust-bathing habits to ensure they are maintaining a healthy routine. Look out for the following signs that indicate a successful dust bathing regimen:
Active dust bathing behavior: Chickens should exhibit regular and active engagement in dust bathing. They should eagerly enter the dust bath area, vigorously roll and flutter, and spend an adequate amount of time grooming themselves.
Clean and well-groomed feathers: After dust bathing, chickens should emerge with clean and well-groomed feathers. Their plumage should appear fluffed, free of debris, and have a healthy sheen.
Reduced parasite presence: An effective dust bathing routine helps control parasites and minimize their presence on chickens. Regular dusting can result in a visible reduction in pests such as lice, mites, and fleas.
Troubleshooting Common Challenges
While creating a dust bath for your chickens is generally straightforward, you may encounter some challenges along the way. Here are a few common issues and potential solutions:
Excessive dust bath material consumption: Some chickens may have a tendency to ingest excessive amounts of dust bath material. While small amounts are generally harmless, consuming too much can cause digestive issues. If you notice this behavior, consider providing alternative dust bath materials or reducing the depth of the bath.
Reluctance to use the dust bath: Occasionally, chickens may be hesitant to use the dust bath, particularly if they are new to the flock or inexperienced with dust bathing. Patience and gentle encouragement are key. Gradually introduce them to the dust bath and allow them to observe other chickens engaging in the behavior. Placing treats or their favorite scratch grains near the dust bath can also entice them to explore it.
Extreme weather conditions: Harsh weather, such as heavy rainfall or freezing temperatures, can make the dust bath area unsuitable or inaccessible for chickens. In such cases, provide alternative options indoors, such as shallow trays filled with dust bath material, to ensure they can still engage in dust bathing regardless of the weather
DIY Dust Bath Container Ideas
If you prefer a more customized approach to creating a dust bath for your chickens, here are some DIY container ideas:
Wooden Box: Build a shallow wooden box with dimensions suitable for your flock. Line the bottom with a wire mesh to prevent the dust bath material from spilling out.
Tire Dust Bath: Repurpose an old car tire by filling it with the desired dust bath ingredients. The tire provides a contained area for dust bathing and can be easily cleaned and maintained.
Plastic Storage Container: Use a large plastic storage container with a lid. Cut an entrance hole in one side, and fill the container with the chosen dust bath materials. The lid helps to keep the contents dry and prevents debris from entering.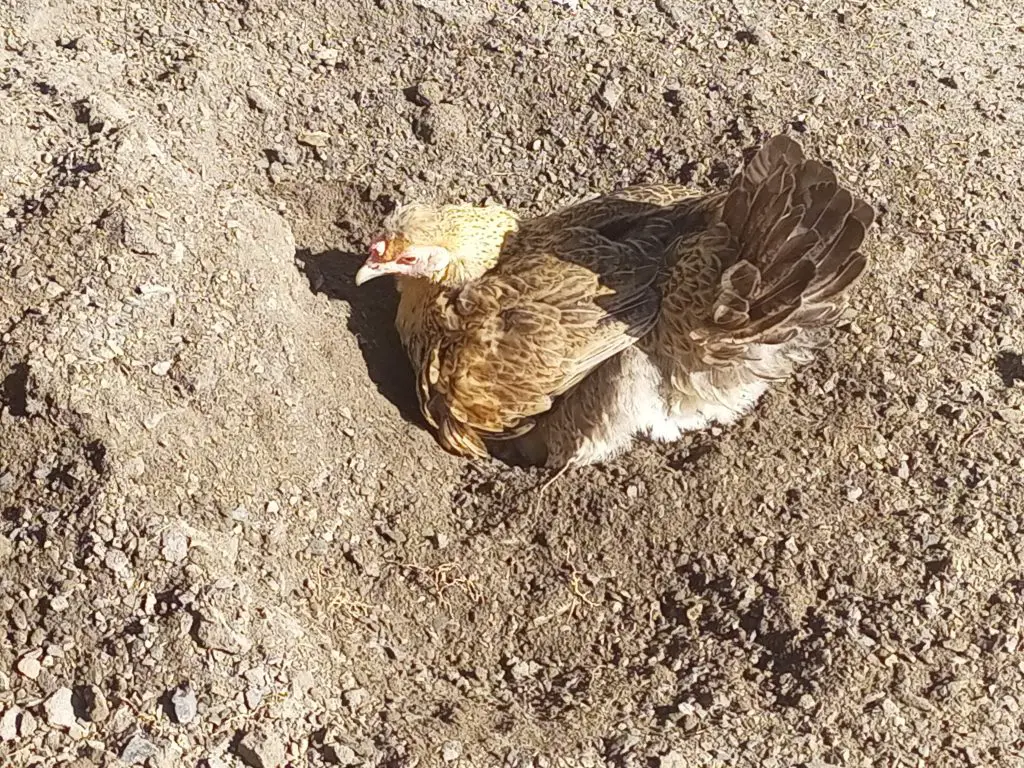 Tips for Maintaining a Clean Dust Bath Area
To ensure your chickens' dust bath remains clean and effective, consider the following tips:
Regularly Remove Debris: Clear the dust bath area of any leaves, twigs, or other debris that may accumulate. This helps maintain a clean and inviting space for your chickens.
Replace Soiled Material: If you notice excessive soiling or contamination in the dust bath, it's time to replace or refresh the dust bath material. Remove the old material and replace it with a fresh batch to ensure your chickens have access to a clean dust bath.
Periodic Cleaning: Clean the dust bath container or designated area periodically to prevent the buildup of bacteria or mold. Empty and wash the container, or rake and level the designated area, before refilling it with fresh dust bath material.
Other Considerations for Chicken Health
While dust bathing plays a crucial role in promoting chicken hygiene and health, it's essential to remember other factors that contribute to their overall well-being. Consider the following:
Balanced Diet: Provide your chickens with a balanced and nutritious diet that includes a mix of quality feed, fresh water, and occasional treats. A healthy diet supports strong immune systems and vibrant plumage.
Clean Coop: Ensure your chicken coop is regularly cleaned and well-maintained. Remove droppings, change bedding as needed, and address any issues that may arise, such as ventilation or pest control.
Regular Health Checks: Schedule regular health checks for your chickens to detect any signs of illness or parasites. Consult with a veterinarian specializing in poultry health for professional advice and guidance.
FAQs – Creating a Dust Bath for Your Chickens: Promoting Hygiene and Health
1. How often should I change the dust bath? It is recommended to change the dust bath once a week or whenever it becomes dirty. Regular maintenance ensures that your chickens have access to clean and effective dust-bathing material.
2. Are there any specific precautions to take when using certain ingredients like diatomaceous earth or wood ashes? When using diatomaceous earth (DE), make sure to choose the food-grade version. Avoid using pool-grade DE as it can be harmful to chickens. For wood ashes, use only ashes from a wood-burning stove or fireplace and avoid charcoal, coal, or treated wood ashes, which may contain harmful chemicals.
3. Can chickens overuse the dust bath? Is there a risk of them becoming too dusty? Chickens instinctively know when they have had enough dust bathing. They will typically shake off excess dust and return to their normal activities. While they may appear dusty, this is a natural behavior and helps keep pests at bay. However, if a chicken excessively obsesses over dust bathing and neglects other activities like eating or drinking, it may indicate an underlying health issue and should be monitored.
4. What are the signs that indicate a chicken is experiencing a health issue related to dust bathing? Signs of health issues related to dust bathing can include lethargy, loss of appetite, abnormal feather condition, visible parasites on the skin, or respiratory distress. If you notice any concerning symptoms, it's best to consult a veterinarian for a proper diagnosis and treatment.
5. Are there any alternative methods for promoting chicken hygiene besides dust bathing? While dust bathing is a natural and effective method, other hygiene practices include providing clean water and feed, regular coop cleaning, and maintaining proper ventilation. Additionally, ensuring your chickens have access to a spacious and clean outdoor area where they can engage in natural behaviors like scratching and foraging contributes to their overall hygiene.
6. How long should the chickens spend in the dust bath during each session? The duration of dust bathing sessions can vary among chickens. Typically, they will spend a few minutes to half an hour in the dust bath, depending on their individual preferences and needs. Allow them to engage in dust bathing for as long as they seem comfortable and content.
7. Are there any specific dust bath ingredients that are more effective against certain pests or parasites? Diatomaceous earth (DE) is particularly effective against external parasites like lice, fleas, and mites due to its abrasive properties. However, combining DE with wood ashes or using Monday's Best Dust Bath, which contains multiple beneficial ingredients, can enhance the overall effectiveness against pests and parasites.
8. Can dust bathing be beneficial for other poultry, such as ducks or turkeys? Yes, dust bathing is a natural behavior for various poultry species, including ducks and turkeys. Providing them with a suitable dust bath area or container with appropriate substrate and ingredients can help promote their hygiene and overall well-being.
9. What are some common mistakes to avoid when creating a dust bath for chickens? Some common mistakes to avoid include using harmful or toxic substances in the dust bath, providing a shallow or inadequate space for dust bathing, neglecting to regularly clean and maintain the dust bath area, and not monitoring for signs of excessive dust bathing or related health issues.
10. Are there any specific safety considerations for chickens when dust bathing, such as avoiding sharp objects or toxic substances? Ensure that the dust bath area is free from sharp objects or debris that could harm the chickens. Additionally, use safe and natural ingredients in the dust bath
Conclusion
Creating a dust bath for your chickens is a simple and effective way to promote their hygiene and overall health. By understanding the benefits of dust bathing and selecting the right location, you can provide your chickens with a comfortable and natural environment to engage in this instinctive behavior.
Using natural ingredients like diatomaceous earth, wood ashes, or Monday's Best Dust Bath enhances the effectiveness of the dust bath in controlling parasites and odors.