Egg Bounty Bliss: 10 Inspired Recipes for Your Overflowing Egg Supply.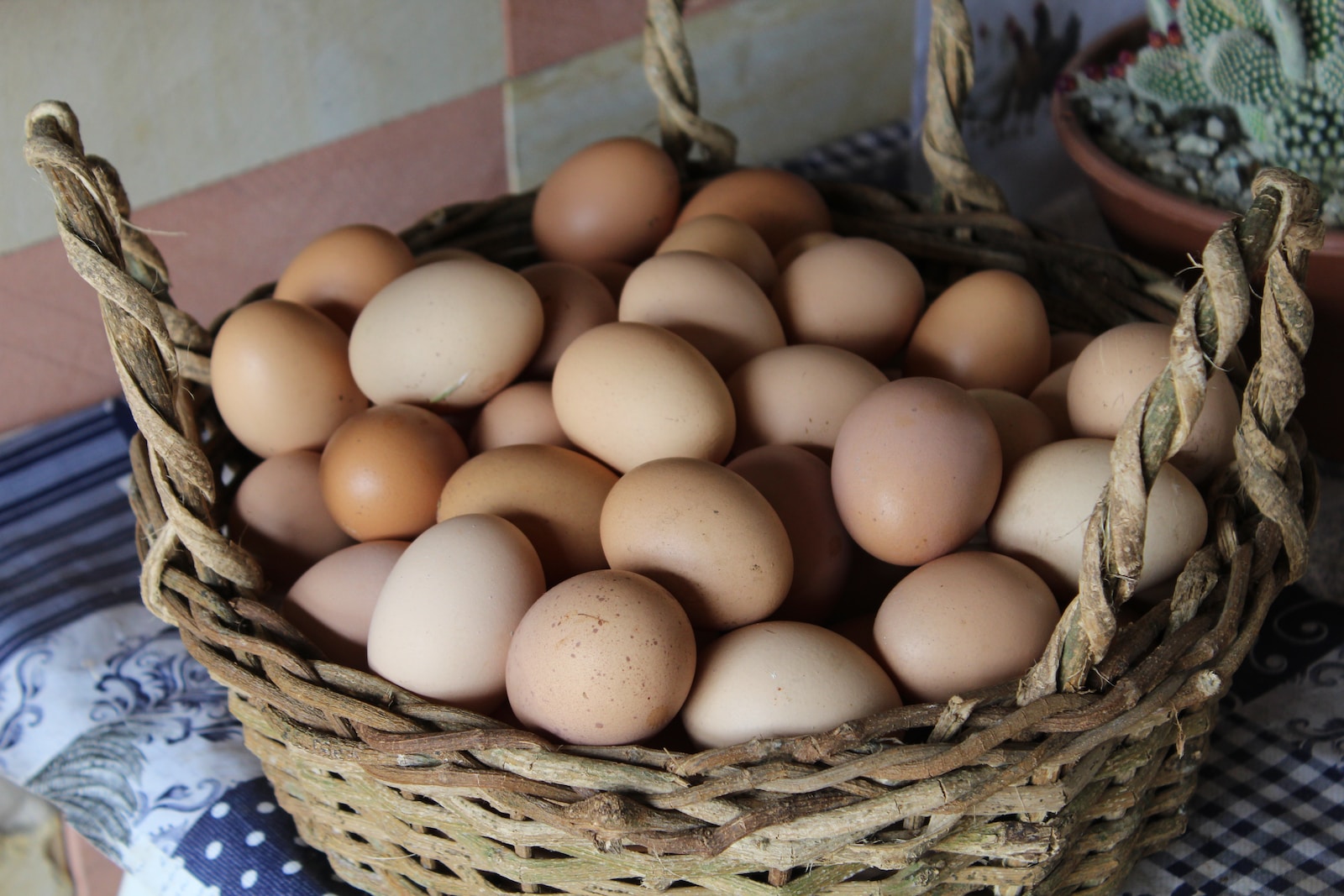 I find myself blessed with an abundance of fresh eggs. While I do enjoy sharing these golden gems with my local community, I also want to make the most of what my farm is providing me.
In this article, I'll take you on a journey exploring the diverse possibilities of using eggs in the kitchen. From classic favorites like deviled eggs and egg salad to more creative options like pre-made eggs for sandwiches, boiled eggs, and pre-made omelets, we'll delve into the wonderful world of egg-centric culinary delights. So, let's crack open the secrets together!

Deviled Eggs
There's something undeniably delightful about biting into a perfectly made deviled egg. This classic appetizer combines the rich creaminess of hard-boiled eggs with a tangy and flavorful filling. To prepare deviled eggs, start by gently boiling the eggs until they're cooked through. Once cooled and peeled, slice the eggs in half lengthwise and carefully remove the yolks. Mix the yolks with mayonnaise, Dijon mustard, a pinch of salt, and a dash of paprika for that extra kick. Fill the egg whites with this delectable mixture, and you have an elegant and crowd-pleasing dish that's perfect for any gathering.
Elevate Your Sandwich Game with Egg Salad
Egg salad is a versatile and satisfying option for those looking to jazz up their sandwiches. It's incredibly simple to make, requiring just a handful of ingredients. Begin by hard-boiling the eggs to perfection. Once cooled and peeled, chop the eggs into small pieces and combine them with mayonnaise, diced celery, a hint of mustard, salt, and pepper. You can even experiment with adding chopped herbs like chives or dill for an extra burst of freshness. Spread this creamy concoction on your favorite bread, add some crisp lettuce and juicy tomatoes, and voila! You've taken your sandwich experience to the next level.
Pre-made Eggs for Sandwiches
For those busy mornings when time is of the essence, pre-made eggs for sandwiches can be a lifesaver. Simply prepare a large batch of scrambled eggs seasoned with your favorite herbs and spices. Cook them until they are just done, allowing for a slightly moist texture. Let the eggs cool, and then divide them into individual portions. Wrap each portion tightly in plastic wrap or store them in airtight containers. When you're in a hurry, grab one of these pre-made eggs, reheat it briefly in the microwave, and slide it into a toasted English muffin or bagel. It's a hassle-free way to enjoy a scrumptious breakfast sandwich on the go!
The Classic Boiled Egg
Sometimes, simplicity is the key to culinary satisfaction, and boiled eggs exemplify just that. Boiling eggs is a skill that every aspiring chef should master. To achieve the perfect boiled egg, gently place the eggs in a saucepan and cover them with water. Bring the water to a rolling boil, then reduce the heat and let the eggs simmer for about 9 to 12 minutes, depending on your desired level of doneness. Once cooked, transfer the eggs to an ice bath to stop the cooking process and make peeling easier. Boiled eggs can be enjoyed on their own with a sprinkle of salt and pepper or used as a versatile ingredient in various dishes.
Pre-made Omelets
Preparing omelets from scratch every morning can be time-consuming. That's where pre-made omelets come to the rescue. Whip up a large batch of omelets with your favorite fillings and flavors. Beat the eggs in a bowl and season them with salt, pepper, and any desired herbs or spices. Heat a non-stick pan and pour the beaten eggs into it, allowing them to cook until they are just set. Add your preferred fillings such as sautéed vegetables, cheese, ham, or herbs. Once cooked, let the omelet cool and then cut it into individual portions. Wrap each portion in plastic wrap or store them in airtight containers. In the morning, simply reheat a pre-made omelet in the microwave or on the stovetop for a quick and delicious breakfast.
The Versatility of Eggs
While deviled eggs, egg salad, pre-made eggs for sandwiches, boiled eggs, and pre-made omelets are fantastic options for utilizing eggs, their potential in the kitchen extends even further. Eggs are incredibly versatile and can be used in countless recipes.
Baking with eggs is a staple in many kitchens. Whether you're making cakes, cookies, bread, or pastries, eggs play a vital role in providing structure, moisture, and richness to baked goods. Their binding properties help ingredients come together, resulting in tender and flavorful treats.
If you're in the mood for a light and fluffy dessert, consider making a soufflé. Soufflés are made by incorporating beaten egg whites into a flavorful base, such as cheese or chocolate. The whipped egg whites create an airy and delicate texture when baked, making for an impressive and delicious dessert.
For those craving a protein-packed meal, eggs are a fantastic choice. From traditional breakfast dishes like eggs Benedict and frittatas to dinner favorites like quiches and shakshuka, eggs can take center stage in a variety of savory dishes. Their versatility allows them to pair well with a wide range of ingredients, making them a go-to option for satisfying and nutritious meals.
Additionally, eggs can be used as a binder in recipes that require ingredients to stick together. Whether you're making meatballs, veggie burgers, or even homemade granola bars, eggs can help hold everything together, ensuring that your creations stay intact during cooking.
Conclusion
The humble egg holds immense culinary potential. From classic favorites like deviled eggs and egg salad to more innovative options like pre-made eggs for sandwiches, boiled eggs, and pre-made omelets, there are numerous ways to make the most of the eggs your farm provides. Don't limit yourself to the basics—explore the versatility of eggs in baking, desserts, and savory dishes. With eggs as your kitchen companion, the possibilities are endless. So, embrace the crack of the shell and let your creativity soar as you unlock the culinary wonders of eggs!