Can You Butcher A Goat In Your Backyard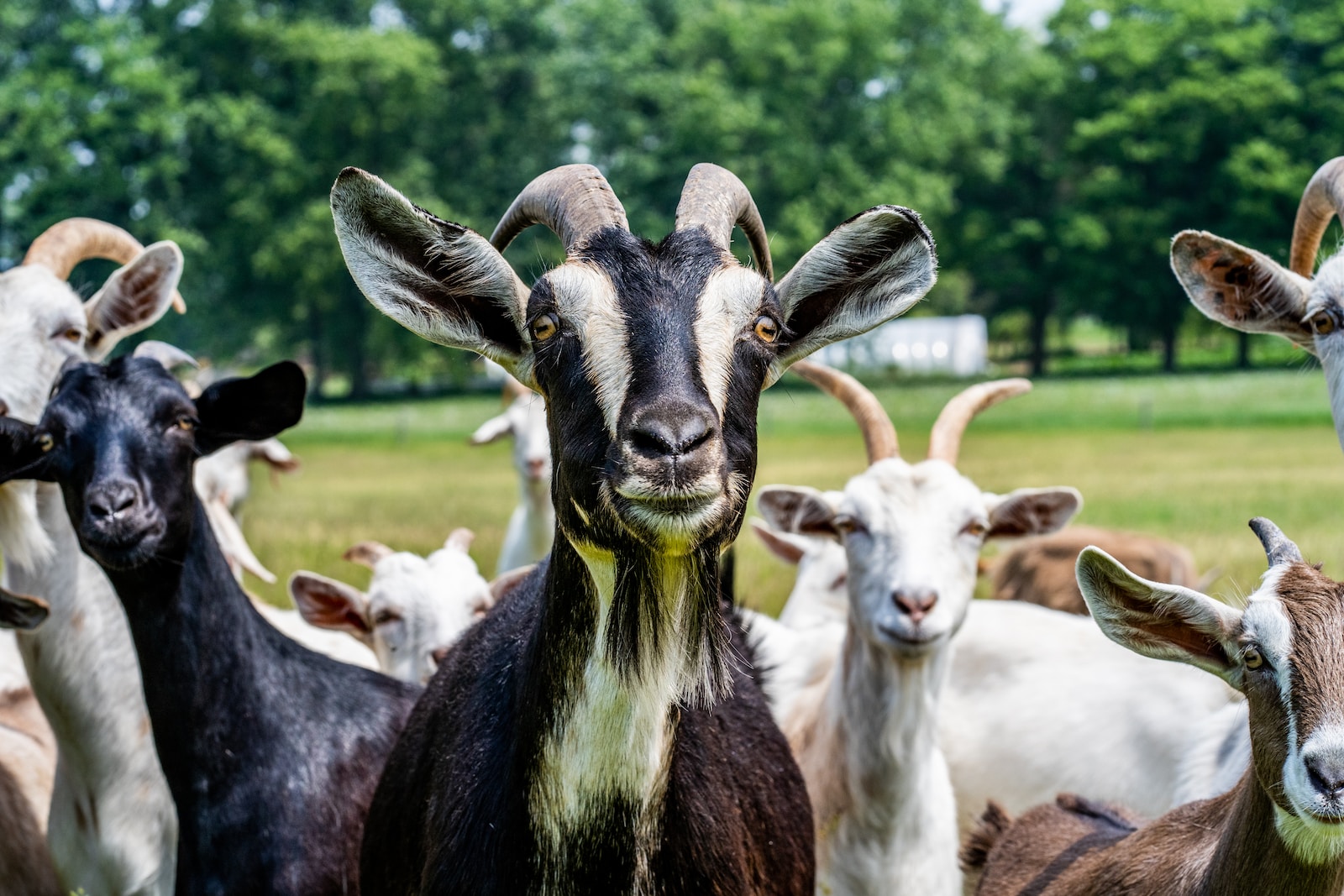 Have you ever considered raising your own goats for meat? It's a sustainable and affordable way to provide your family with high-quality protein.
By raising and butchering your own goats, you can ensure that they are treated humanely from birth to death. Plus, the flavor of fresh goat meat is unparalleled by anything you can buy in a grocery store.

The Legal and Ethical Considerations
Before embarking on a backyard butchering project, it's important to understand the legal and ethical considerations that come with it. Each state and country has its own laws surrounding backyard butchering, so it's crucial to know what is allowed in your area.
Additionally, there are moral implications to killing an animal for food that must be considered. It's important to approach this process with respect for the animal's life and with appreciation for the responsibility you're taking on as its caretaker and butcher.
Legal Considerations
The Laws Surrounding Backyard Butchering in Different States/Countries
Before you even consider butchering a goat in your backyard, it's crucial to do your research about the laws in your area. The legality of backyard butchering varies depending on where you live, so it's essential to know what you're getting into.
In some states or countries, it is illegal to slaughter an animal outside of a licensed facility. You may need permits or licenses to butcher the goat yourself, and there may be specific regulations on how this must be done.
The Potential Consequences of Breaking These Laws
If you decide to butcher a goat without following the legal requirements, there can be severe consequences. If caught, you could face hefty fines and even legal charges for animal cruelty.
Not only could this have financial implications, but it can also lead to damage to your reputation within the community. It is essential that before taking any action towards butchering a goat in your backyard that you consult with local agricultural authorities or an attorney who specializes in these matters.
Ethical Considerations
To Kill or Not to Kill: Addressing the Moral Implications of Killing an Animal for Food
As backyard butchering gains popularity, it's important to consider ethical questions surrounding animal slaughter. For some, killing an animal for food runs contrary to their sense of morality.
Others believe that consuming meat is natural and necessary. Regardless of where you stand on the issue, it's essential to recognize that taking a life is not something that should be taken lightly.
Respectful Slaughter: Ensuring That the Goat is Killed Humanely and With Respect
Assuming that you have made the decision to kill a goat for meat, it's crucial that you do so in a humane and respectful way. This means using proper techniques and equipment to minimize the animal's suffering as much as possible.
If you're new to backyard butchering, it's recommended that you seek guidance from experienced farmers or butchers who can guide you through the process. One important aspect of humane slaughter is ensuring that the goat is calm and comfortable before being killed.
A stressed or agitated animal will produce adrenaline which can taint the meat with an unpleasant flavor. Additionally, using a sharp instrument such as a knife or gun can help ensure a quick and painless death.
Another essential aspect of respect in backyard butchering is utilizing every part of the goat in some way – waste not want not! From meat cuts to leather hides, there are many uses for all parts of this animal once killed with respect.
Ultimately, taking responsibility for killing an animal for food means approaching it with care and thoughtfulness. It requires acknowledging both the moral implications of this choice and doing everything possible to minimize any pain or distress felt by the goat during its final moments.
Preparing for Butchering
Setting Up Your Workspace
Before beginning the butchering process, it is important to properly prepare your workspace. Choose an area that is clean and well-ventilated. Lay out all of the necessary tools and equipment, including a sharp knife, cutting board, and containers for storing different parts of the goat.
If possible, it is best to set up your workspace outside to reduce the mess and potential odors inside your home. When selecting a location outdoors, choose an area that is shaded and cool if you are working in warmer weather.
Taking Safety Precautions
It is crucial to take safety precautions during the butchering process to prevent injury or accidents. Wear gloves and eye protection to protect yourself from any dust or debris that may be kicked up during the process. Make sure your knife is sharp before starting as it will reduce the risk of slipping while making cuts.
Keep children and pets out of the area while you are working as they can be easily injured. Remember also that goat meat can carry bacteria such as E.coli which can cause food poisoning if not handled properly.
Make sure to keep all equipment clean throughout the process, wash hands regularly with soap, water or sanitizer before handling food products. By taking these safety measures into consideration before beginning the butchering process, you can ensure a safe experience for yourself and those around you.
The Butchering Process:
From Slaughtering to Packaging
Now that you've made the decision to slaughter a goat in your backyard, it's important to understand each step of the butcher process. The slaughtering and butchering process should be done with respect for the animal and with safety in mind.
First, it's important to hang the goat up by its hind legs. This is typically done by tying a rope around the hind legs and then attaching it to a sturdy beam or tree branch.
This allows for easy access to all parts of the goat. Next, make an incision in the throat area of your goat.
This will sever its carotid arteries and jugular vein, which will quickly cause blood loss and death. Be careful not to puncture any other organs during this step.
Once the goat has been bled out, you can begin removing its skin and internal organs. Make an incision from top to bottom down its belly, being careful not to cut too deep as that could puncture organs inside (and release their contents).
Use your hands or a knife for this part; gloves are advisable. The next step is breaking down the carcass into more manageable pieces like quarters or smaller cuts like chops or roasts.
Use a sharp knife and saw if needed – you can remove each appendage separately at this point (legs, head). Take special care when handling sharp tools – use safety gear when necessary.
When all steps have been completed properly – including cleaning off any remaining hair or debris from skinning – you are ready for packaging! You can vacuum seal meat if available (this helps prolong lifespan), freezer paper wrapping is another option.
Tips On How To Handle Different Parts Of The Goat
Different parts of a goat require different handling techniques before butchering can commence: – Neck and Shoulder: These are some of the toughest cuts. It is usually better to slow cook these parts in stews or soups.
Ribs: These can be used for BBQs and roasts. Be sure to remove any excess fat, particularly if you are planning to grill them.
Leg: This is a great part of the goat for roasting or grilling. It can also be used in stews or curries.
Loin: The loin is the most tender and valuable part of the goat. It's perfect for quick cooking methods like pan-frying or grilling.
Remember, butchering a goat takes patience, knowledge, skill, and respect for the animal. Proper handling techniques will help ensure that you end up with high-quality meat that you can enjoy with your family and friends.
Utilizing Goat Meat
Cooking and Preparing Goat Meat
When it comes to cooking and preparing goat meat, there are endless possibilities! You can grill it, roast it, stew it, and even use it in curries or soups.
One popular way to cook goat meat is by making Jamaican jerk goat. This involves marinating the meat for hours in a mixture of spices such as thyme, allspice, and scotch bonnet peppers before grilling or roasting it.
If you prefer a more classic flavor profile, you can prepare the goat meat using traditional Mediterranean techniques. For instance, try seasoning the meat with oregano and garlic before roasting it with potatoes and other vegetables.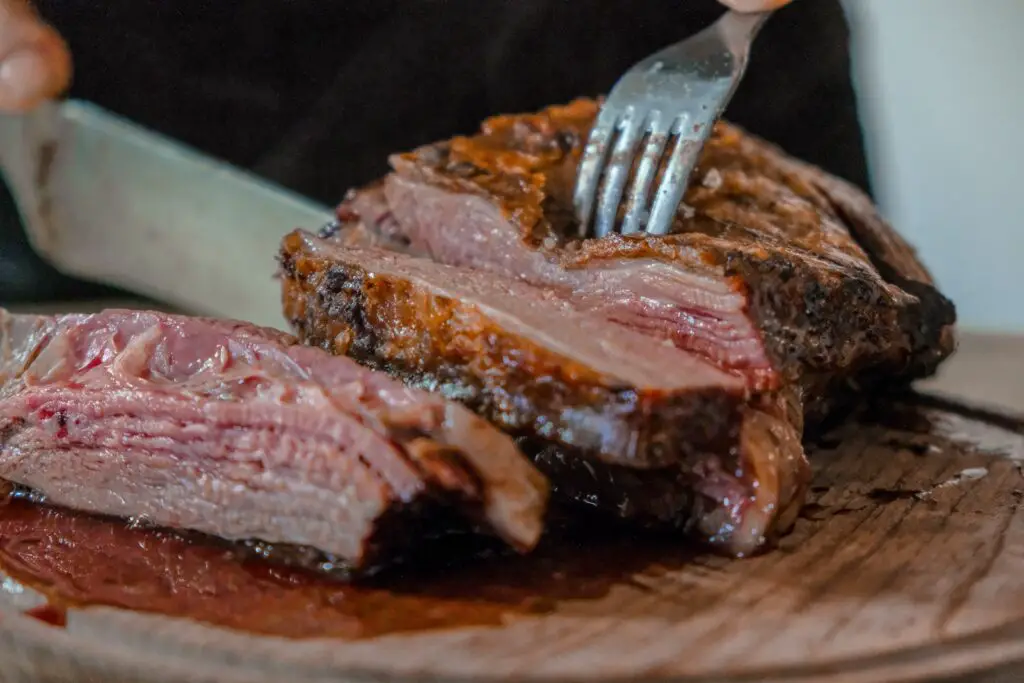 Nutritional Benefits of Goat Meat
Goat meat is not only delicious but also packed with nutrients that make it an ideal choice for health-conscious individuals. It contains high levels of protein, iron, zinc, and vitamin B12, all of which are essential for maintaining optimal health.
Moreover, studies suggest that consuming goat meat may help lower blood pressure levels due to its high potassium content. Additionally, because goats are typically raised on grass-fed diets in a free-range environment without antibiotics or hormones – like our ancestors did – their meat is often considered more nutritious than conventionally raised livestock meats.
If you're looking to add new flavors to your meals while still getting all the necessary nutrients in your diet – give goat meat a try! Whether you decide to grill jerk-style or roast Mediterranean-style; you're sure to enjoy this flavorful and nutritious protein source.
Conclusion
Throughout this article, we have explored the legal and ethical considerations of backyard butchering, as well as the necessary steps for preparing your workspace and equipment. We have also discussed in detail the proper way to handle and utilize goat meat. By following these guidelines, you can ensure that the process is done safely and humanely.
It is important to understand that backyard butchering is not for everyone. It requires a certain level of knowledge and preparation to do it safely and humanely.
If you are considering trying it yourself, make sure you have thoroughly researched all legal requirements in your area, have proper training in animal handling techniques, understand how to humanely kill an animal with respect, and know how to properly utilize all parts of the goat's meat. By following these guidelines, individuals can take responsibility for their food sources while respecting the moral implications of killing an animal for food.
Backyard butchering can be a rewarding experience if done correctly; however, it should never be taken lightly or done without proper preparation. Ultimately, it is up to each individual to decide if they want to pursue this path of self-sufficiency.