What to Do with Spent Dirty Coop Straw: Creative Ideas for Recycling and Reusing.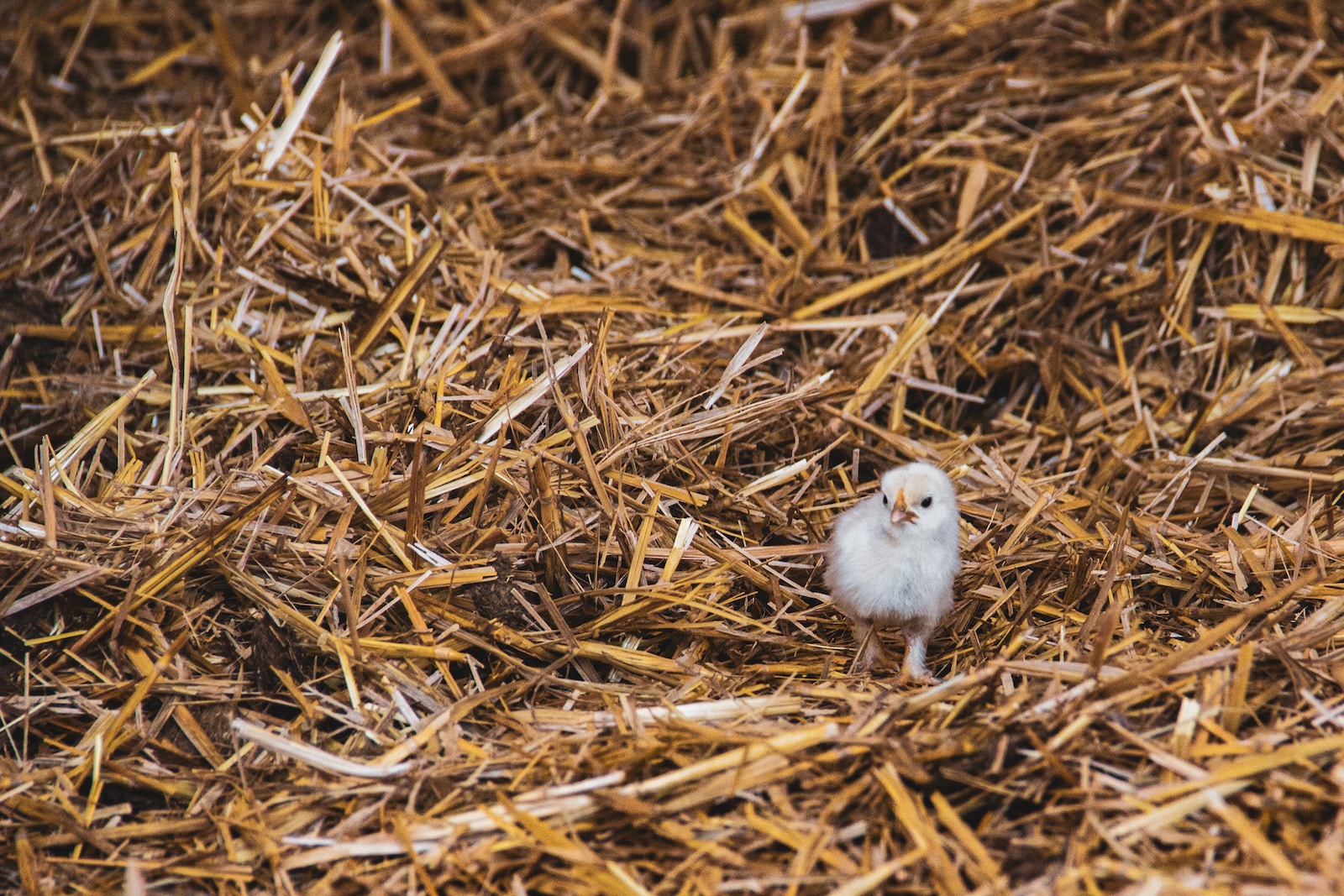 If you're a backyard chicken keeper like me, you've likely wondered what to do with the spent dirty straw from your coop. Instead of simply discarding it, there are numerous eco-friendly options for recycling and reusing this valuable resource.
In this article, I will share some creative ideas that fellow chicken enthusiasts have come up with for repurposing spent coop straw. From composting and mulching to using it as fertilizer for gardens, these methods not only help reduce waste but also provide additional benefits for your plants and soil.

Join me as we explore the various ways to make the most of your spent dirty coop straw.
Composting: Turning Waste into Nutrient-Rich Soil
Composting is an excellent way to repurpose spent dirty coop straw while creating nutrient-rich soil for your garden. Here's how you can compost your straw effectively:
Pile it in One Spot: Start by creating a designated composting area in your backyard. Pile the spent straw in one spot, ensuring it is well-aerated for proper decomposition.
Add Lawn Clippings and Turn Occasionally: To speed up the composting process, mix the straw with green materials such as lawn clippings or kitchen scraps. Turning the pile occasionally helps with air circulation and decomposition.
Provide Water: Keep the compost pile moist by providing water once a week. This helps maintain the ideal moisture level for the microorganisms responsible for breaking down the straw.
Mulching: Nourishing Your Plants and Suppressing Weeds
Another practical use for spent dirty coop straw is using it as mulch. Mulching provides numerous benefits for your garden, including moisture retention, weed suppression, and soil temperature regulation. Here's how you can use straw as mulch:
Mulch in the Blackberries and Raspberries: Spread a layer of straw around the base of your blackberry and raspberry bushes. This helps conserve moisture and protect the roots from temperature fluctuations.
Mulch Garden Rows: Apply a thick layer of straw between your garden rows. This acts as a natural weed barrier, preventing weed growth and conserving moisture in the soil.
Chicken-Driven Composting: Harnessing the Power of Your Feathered Friends
Did you know that chickens can help compost your spent dirty coop straw? By allowing your hens to scratch and peck through the straw, you can speed up the composting process. Here's how it works:
Throw it in the Run: Place the spent straw in the chicken run, mixed with wood chips or other bedding materials. The chickens will naturally scratch and mix it, aiding in decomposition.
Sift and Use as Potting Soil: Every fall, sift the composted straw from the chicken run. The resulting material is a nutrient-rich mix of compost and chicken manure, perfect for seedlings and potting soil in the spring.
Burning: A Disposal Option with Caution
While there are various eco-friendly methods to repurpose spent dirty coop straw, some chicken keepers may consider burning it as a disposal option. However, it is important to approach this method with caution, as burning organic materials can have environmental and safety implications. If you choose to burn the straw, here are some key considerations to keep in mind:
Follow Local Regulations: Before proceeding with burning, familiarize yourself with the local regulations and ordinances regarding open burning. Different areas may have specific rules and restrictions in place to prevent air pollution and fire hazards. It is essential to adhere to these regulations to avoid potential fines or legal consequences.
Choose the Right Time and Place: Select an appropriate time and location for burning the straw. Avoid windy conditions that could spread embers and start unintended fires. Choose an open area away from any structures, trees, or dry vegetation that could catch fire. Ensure that there are no burn bans or restrictions in effect due to weather conditions.
Use a Contained Fire Pit: To minimize the risk of fire spreading, use a controlled fire pit or burn barrel specifically designed for burning organic materials. These containers help contain the flames and reduce the chance of embers escaping.
Safety Precautions: Prioritize safety by taking necessary precautions. Keep a fire extinguisher, water source, or sand nearby to quickly extinguish the fire if needed. Wear protective clothing, including heat-resistant gloves, and avoid loose-fitting or flammable clothing. Never leave the fire unattended, and ensure that children and pets are at a safe distance.
Consider Alternatives: Before resorting to burning, explore other environmentally friendly options for repurposing spent dirty coop straw. Composting, mulching, or utilizing chicken-driven composting methods not only help reduce waste but also provide valuable nutrients for your garden and soil.
Remember, burning should be considered as a last resort when other options are not feasible. It is crucial to prioritize environmental responsibility and safety when choosing this method. If you have any doubts or concerns, it is advisable to consult local authorities or fire departments for guidance specific to your area.
By following the appropriate guidelines and safety measures, you can mitigate potential risks and responsibly dispose of spent dirty coop straw if burning is your chosen method. However, exploring alternative options that promote sustainability and resourcefulness can have additional benefits for your garden and the environment.
Proper Disposal: When All Else Fails
While there are numerous creative ways to repurpose spent dirty coop straw, it's understandable that not all options may be suitable for everyone's circumstances. In such cases, ensuring proper disposal of the straw remains crucial to maintain environmental responsibility. While tossing it in the trash might appear convenient, it's worth exploring alternative methods that prioritize sustainability and waste management. Consider the following options when other strategies are not feasible:
Local Recycling Programs: Research local recycling programs in your area that accept organic materials, including straw. Many communities have dedicated facilities or composting centers that can handle organic waste. Check with your municipal waste management department or visit their website to determine if they offer specific recycling options for agricultural or organic materials.
Waste Management Facilities: Explore waste management facilities or composting facilities that accept organic materials. These facilities have the infrastructure and expertise to process organic waste efficiently. Contact them to inquire about their policies and procedures for accepting spent dirty coop straw.
Community Composting Initiatives: Some communities have initiated composting programs or community gardens that accept organic waste from residents. These initiatives often aim to divert organic materials from landfills and transform them into nutrient-rich compost for gardening or landscaping projects. Reach out to local community organizations, gardening clubs, or agricultural associations to inquire about any existing composting programs in your area.
Organic Waste Collection Services: In certain regions, there may be private companies or services that specialize in collecting and processing organic waste. These services often provide bins or containers specifically for organic materials, including straw. Research local organic waste collection services and inquire about their availability, collection schedules, and any associated fees.
Animal Bedding Disposal Services: If the spent dirty coop straw is contaminated with manure or poses challenges for regular waste disposal, consider contacting specialized animal bedding disposal services. These services are equipped to handle organic waste from livestock operations and can provide appropriate solutions for disposal.
By exploring these alternatives, you can ensure that the spent dirty coop straw is properly managed and disposed of in an environmentally responsible manner. Proper disposal not only reduces waste going to landfills but also contributes to the sustainability and health of our ecosystems.
Remember, even when faced with limited options, it's essential to prioritize proper disposal practices. Taking the extra steps to find suitable recycling or waste management solutions demonstrates your commitment to reducing environmental impact and promoting a greener future.
Conclusion
When it comes to spent dirty coop straw, there are numerous creative options for repurposing and recycling. From composting and mulching to chicken-driven composting, these methods not only reduce waste but also provide valuable resources for your garden.
Choose the option that suits your needs and environmental goals, and enjoy the benefits of repurposing your spent dirty coop straw. Let's make a positive impact on our gardens and the planet by reducing, reusing, and recycling.