Why are my Cornish Cross Broiler Chickens Dying?
During my early years as a poultry keeper, I ventured into raising Cornish Cross broilers with great enthusiasm. However, I soon discovered that the journey was not without its challenges. One particular experience that left a lasting impression was the unexpected increase in mortality rates among my flock.
I noticed a sudden decline in the birds' health. Despite my best efforts to provide optimal care, a few chickens started showing signs of weakness and succumbed to illness. It was a disheartening experience, and I knew I had to take immediate action to identify the cause and prevent further losses.

Through thorough research and seeking guidance from experienced farmers, I learned that various factors can contribute to higher mortality rates among Cornish Cross broilers. Issues such as heat stress, improper nutrition, and overcrowding can significantly impact their health and well-being.
Cornish Cross broilers can face mortality at various stages, with some unfortunate cases occurring as early as one day old, while others may experience losses right before processing. It's disheartening to hear stories of poultry keepers who have suffered the devastating loss of entire flocks, sometimes even on the eve of their planned processing.
Cornish Cross broiler chickens are susceptible to various causes of mortality, including water belly, sudden death syndrome, heat stress, cold temperatures, physical injuries, infectious diseases, parasites, and nutritional deficiencies. Water belly, a condition where the heart and lungs cannot meet the oxygen demands of the fast-growing body, commonly occurs between 6 to 8 weeks. Sudden death syndrome, characterized by chickens found dead on their backs, is prevalent among fast-growing meat birds.
Water Belly (Ascites)
Ascites or water belly is a common condition in broilers such as the Cornish Cross. It is a condition where the lungs and heart of the chicken cannot support the oxygen demands of the fast-growing body.  
This means that the heart and lungs will supply less oxygen to the other organs and muscles that desperately need it to function normally 
Water belly occurs between 6 to 8 weeks and is common in areas of high altitude, where there are lower levels of oxygen. 
Symptoms of water belly
Water belly is characterized by abdominal swelling, where the stomach feels like it has fluid, akin to a balloon. 
The chicken will look like it is struggling to breathe and will make choking sounds. The cornish cross chicken that has ascites will appear lazier than other birds. They will have a low appetite and will grow slower than the other birds due to low feed intake and low oxygen supply in their bodies. 
The wattles and combs of chickens with water bellies will turn blue in severe cases. This is because the much-needed oxygen will be supplied to vital organs, leaving out non-essential organs such as the wattles and combs. 
To confirm if the bird has a water belly, a professional will draw fluid from the stomach. Positive cases of water belly will result in a yellowish fluid, that is secreted from the liver. 
Water belly has high mortality rates. Broiler chickens with a water belly will most likely die.
Causes of water belly in cornish cross broilers.
Water belly is brought about by various reasons. These are:-
High attitude areas.
Rapid growth.
Respiratory diseases.
Poor nutrition.
Poor genetics.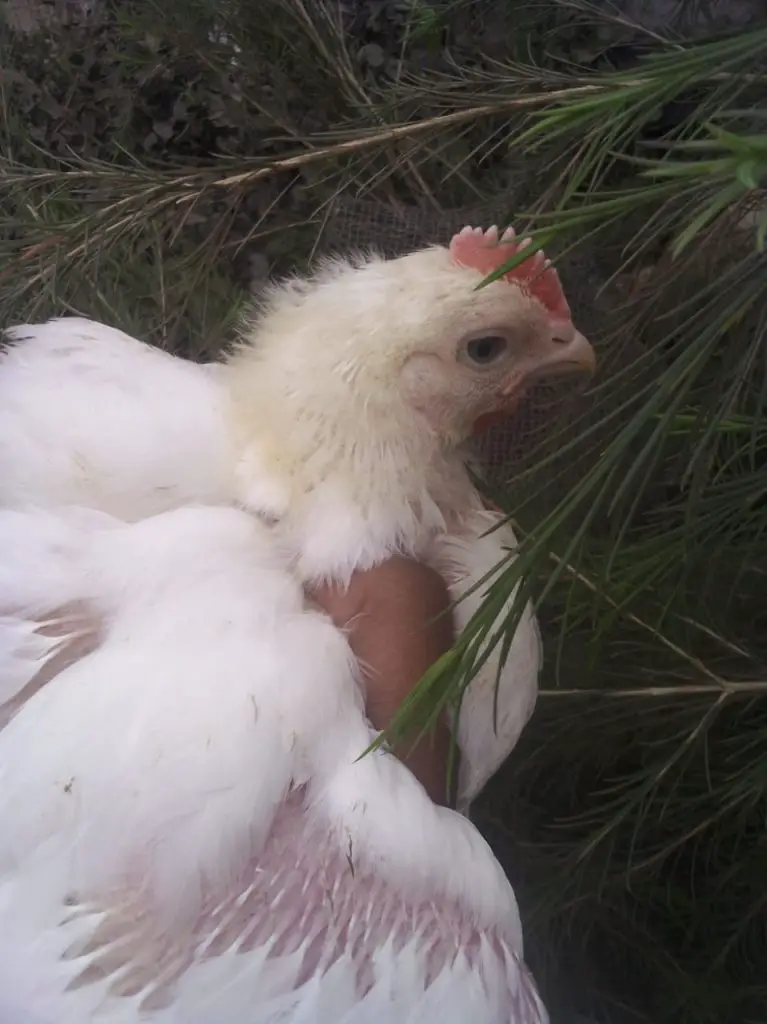 Flip Over Disease
Sudden death syndrome also known as flip over disease is a condition where cornish cross broilers chickens are found dead, lying on their backs. It happens with no warning or symptoms. The broiler chicken stretches its neck, gasps for air, flaps its wings, falls on its back, and dies. 
The highest percentage of chickens affected by the flip-over disease are males. It occurs mostly on fast-growing meat birds. Sudden death syndrome rarely occurs on slow-growing chickens. Due to this reason, it is thought that the cause of flip-over disease is metabolic due to a high intake of carbohydrates. 
Since the cause of flip over disease is not scientifically proven and the disease has no symptoms, it is hard to tell if the chicken died of flip over disease. Experts conclude that the cause of death is certainly flip over disease if the chicken is found lying on its back. The chicken will have no other external or internal symptoms. 
Flipover disease can occur when cornish cross chickens are 3 days old to when they are due for processing but the peak occurrence of sudden death syndrome is between 12 and 28 days of age. If your cornish cross chickens are dying in the second, third, or fourth week, with no prior warning signs, chances are that it is flip over disease. 
Flipover disease has no cure since the cause is not known and has no symptoms or warning signs. Reducing the amount of feed given to cornish cross broilers has been known to reduce the chances of the chickens dying from the flip-over disease. This slows down their growth rate, giving a chance for their organs to grow to sustain their fast-growing muscle structures. 
Slowing down the growth of cornish cross chickens can be achieved by either taking away their feeders at night, reducing the number of light hours, or feeding the chickens with a low carbohydrate diet.
Heat 
Cornish cross broilers are not efficient in managing heat stress due to their rapid growth and huge muscles. 
Heat stress is a condition where a chicken cannot lower their body temperatures when it is hot. Heat stress can lead to death through heat strokes. The optimal body temperature for chickens is 104 to 107 degrees Fahrenheit (40 degrees Celsius to 41 degrees celsius). Heat stress gets worse in areas of high humidity. 
The signs of heat stress in cornish cross broilers are panting, rapid breathing, loss of electrolytes, outstretched wings, erect feathers, loss of appetite, increased drinking, diarrhea, droopiness, and lethargy. At the final stages that lead to death, the chicken will be staggering, will experience seizures and disorientation. If no action is taken at this point, the chicken will eventually die. 
To prevent and treat heat stress in cornish cross broiler chickens, provide the birds with water throughout. You can use a block of ice in their drinking water, in order to keep their water cool for long. Electrolytes in their water will assist in replenishing the electrolytes that their bodies a losing. Providing shade will create a cooler area where the chickens can shelter themselves. This is important if you are raising pastured broilers. Make sure the coops or chicken tractors are well ventilated to allow for hot air to rise. 
Cold
Cornish cross chickens can get affected negatively by cold. The main reason for this is that they feather more slowly than other chicken breeds. Cold is one of the reasons most backyard chicken keepers and homesteaders do not raise meat chickens over winter. 
While cold temperatures might not directly kill chickens, it can lead to them pilling us so as to keep warm. This can lead to trauma and injuries that can lead to immediate death. Cornish cross chickens get injured easily since their muscles and bones are not as strong as other breeds. 
It is advisable to observe the way chickens are behaving when it is cold. If they are pilling up together, then it is time for an intervention. You will need to provide some form of heating like heat lamps or heating mats. 
Trauma (Accidents and Physical Injuries)
Cornish Cross chickens may experience trauma – external or internal injuries that may lead to sudden death. 
Physical trauma in Cornish Cross broiler chickens may be caused by impact on the surfaces of the coop or tractor, feeders, and waterers. It may be a result of the chickens pilling upon each other. 
Cornish Cross chickens may pile on top of each other when it is too cold, or too hot, they feel threatened, or when fighting to get space at the feeder and waterer. 
Injuries in broiler chickens may be also caused by an accident when closing the door of the coop or moving the chicken tractor. 
Signs of physical trauma in broilers are lethargy, lack of movement, and lower activity levels. These injuries might lead to death if not attended to.  Since the bird might not be able to drink and eat properly, it might die of starvation. 
Infectious Diseases
Infectious diseases are a common and serious concern in Cornish Cross broiler chickens, as they can lead to high mortality rates if not properly managed. These diseases can be caused by various pathogens, including viruses, bacteria, and mycoplasmas. Some of the most prevalent infectious diseases that can affect Cornish Cross chickens are respiratory diseases, bacterial infections, and mycoplasma infections.
Respiratory Diseases: Respiratory diseases, such as infectious bronchitis and Newcastle disease, are highly contagious and can spread rapidly within a flock. These diseases primarily affect the respiratory system of chickens, leading to symptoms such as coughing, sneezing, nasal discharge, and difficulty breathing. Severe cases can result in pneumonia and death. Proper biosecurity measures, including isolation of sick birds, strict hygiene practices, and vaccination, are crucial for preventing the introduction and spread of respiratory diseases.
Bacterial Infections: Bacterial infections can also cause significant illness and mortality in Cornish Cross chickens. Common bacterial pathogens that affect broilers include Escherichia coli (E. coli) and Clostridium perfringens. E. coli infections can lead to septicemia, respiratory problems, and organ failure. Clostridium perfringens can cause necrotic enteritis, a severe intestinal infection. Proper sanitation, hygiene, and good management practices, such as clean drinking water and regular cleaning of feeders and waterers, can help reduce the risk of bacterial infections. In some cases, antibiotic treatments may be necessary, but it's important to consult a veterinarian for appropriate diagnosis and treatment.
Mycoplasma Infections: Mycoplasma infections, particularly caused by Mycoplasma gallisepticum and Mycoplasma synoviae, can affect the respiratory system, joints, and other organs of Cornish Cross chickens. These infections often result in respiratory symptoms, swollen joints, lameness, decreased growth, and increased mortality. Biosecurity measures, such as isolation of infected birds, testing and culling of infected flocks, and strict hygiene practices, are crucial to prevent the spread of mycoplasma infections. Vaccination is also available for some mycoplasma strains and can be an effective preventive measure.
Implementing proper biosecurity measures is essential for preventing the introduction and spread of infectious diseases in your flock. This includes maintaining a closed flock, limiting visitors, using separate clothing and footwear for different areas, regularly disinfecting equipment and facilities, and practicing good hygiene when handling birds.
Vaccination programs tailored to the specific diseases prevalent in your region can also play a crucial role in reducing the impact of infectious diseases on your Cornish Cross broilers. Consulting with a poultry veterinarian or local agricultural extension services can provide valuable guidance on disease prevention and control measures specific to your area.
Parasites
Parasites pose a significant threat to the health and well-being of Cornish Cross broiler chickens. These organisms can infest both the external and internal parts of the birds, weakening their immune system and making them more vulnerable to diseases and mortality. It is essential for poultry keepers to be vigilant in identifying and treating parasitic infestations to ensure the overall health of their flock.
External Parasites
External parasites are commonly found on the skin, feathers, and other external parts of the chickens. Some of the most common external parasites that affect Cornish Cross chickens include mites, lice, fleas, and ticks. These parasites can cause severe discomfort, irritation, and skin damage to the birds. Infested chickens may exhibit signs such as feather loss, skin irritation, constant scratching, restlessness, and decreased feed intake.
Regularly inspecting your flock for signs of external parasites is crucial. Pay close attention to areas where parasites tend to hide, such as under the wings, around the vent, and along the neck. If an infestation is identified, prompt treatment with appropriate anti-parasitic medications, such as sprays, powders, or dusts specifically formulated for poultry, is necessary. It is important to follow the instructions provided by the manufacturer and repeat the treatment as recommended to ensure effective eradication.
Internal Parasites
Internal parasites are organisms that infest the internal organs and systems of the chickens. The most common internal parasites in broiler chickens are worms, including roundworms and tapeworms. These parasites can cause significant damage to the digestive system, leading to poor nutrient absorption, weight loss, anemia, and general weakness in the birds.
Regular fecal examinations can help identify the presence of internal parasites in your flock. Consult with a poultry veterinarian or diagnostic laboratory to perform these tests and obtain appropriate deworming medications. Administering dewormers according to recommended dosages and schedules is crucial to effectively eliminate internal parasites. It is important to rotate deworming products periodically to prevent the development of resistance in parasites.
In addition to regular inspections and treatment, implementing preventive measures can help reduce the risk of parasitic infestations. These measures include maintaining clean and well-ventilated housing, providing proper sanitation in the coop, practicing good flock management practices, and ensuring a balanced diet with adequate nutrition to promote strong immune function.
Nutritional Issues
Proper nutrition is essential for the health, growth, and overall well-being of Cornish Cross broiler chickens. Inadequate nutrition or deficiencies in essential nutrients can lead to a range of health problems, compromised immune function, and increased mortality rates.
It is crucial for poultry keepers to provide a balanced and appropriate diet that meets the specific nutritional requirements of Cornish Cross chickens throughout their growth stages.
Balanced Diet: Cornish Cross chickens have high nutritional demands due to their rapid growth rate. Providing a balanced diet is crucial to support their growth and development while preventing nutritional deficiencies or imbalances. The diet should include a combination of energy sources, such as grains or formulated feeds, as well as protein sources, such as soybean meal or fish meal. It is important to consult with a poultry nutritionist or veterinarian to formulate a diet that meets the specific needs of your flock and takes into account factors such as age, growth stage, and market weight goals.
Essential Nutrients: Cornish Cross chickens require specific essential nutrients to support their growth and development. These include proteins, carbohydrates, fats, vitamins, minerals, and water. Proteins are crucial for muscle development, while carbohydrates provide energy for growth. Fats are an important energy source and aid in nutrient absorption. Vitamins and minerals play key roles in various physiological functions and overall health. It is essential to ensure that the feed formulation provides adequate levels of these nutrients to support optimal growth and prevent deficiencies.
Feed Quality: The quality of the feed is crucial in ensuring proper nutrition for Cornish Cross broiler chickens. It is important to source high-quality feed ingredients and ensure proper storage conditions to maintain the nutritional integrity of the feed. Using feed that is fresh and free from mold, contaminants, or rancidity is essential to prevent potential health issues and reduce mortality rates.
Water: Water is often overlooked but is a vital component of proper nutrition for Cornish Cross broilers. Clean and fresh water should be available at all times to ensure proper hydration and digestion. Water intake directly affects feed intake, nutrient absorption, and overall health. Regularly check water sources to ensure they are clean, free from contaminants, and easily accessible for the chickens.
Monitoring and Adjustments: Regular monitoring of the chickens' growth, behavior, and overall health is essential to identify any nutritional deficiencies or issues. Keep track of their weight gain, feed consumption, and any signs of malnutrition or growth abnormalities. If you notice any concerns, consult with a poultry nutritionist or veterinarian who can assess the situation and recommend adjustments to the diet or supplementation if necessary.
Consulting Experts: Working with a poultry nutritionist or veterinarian who specializes in poultry nutrition can be highly beneficial. These experts can provide valuable guidance on feed formulation, dietary requirements, and any necessary adjustments based on your specific flock's needs. They can also help identify and address any nutritional challenges or deficiencies that may be contributing to increased mortality rates.
Genetic Factors
Genetic factors play a significant role in the health and survival of Cornish Cross broiler chickens. These birds are specifically bred for rapid growth and high meat production, but this intense genetic selection can also lead to certain challenges and vulnerabilities that affect their overall well-being. It is important for poultry keepers to understand and address these genetic factors to minimize the risk of health problems and mortality in their flocks.
Rapid Growth: The Cornish Cross broiler breed is known for its remarkable growth rate, achieving market weight in a relatively short period. However, this rapid growth can put a strain on the bird's skeletal system and internal organs. The fast-growing muscle development may outpace the development of the supporting structures, resulting in skeletal deformities or issues such as leg weakness, joint problems, or even fractures. These genetic factors can increase the risk of mortality if not properly managed.
Organ Failure: The intense genetic selection for rapid growth can also lead to potential organ failure in Cornish Cross broilers. The cardiovascular and respiratory systems may struggle to keep up with the demands of the rapidly expanding body. Heart attacks or ascites (water belly) can occur when the heart and lungs fail to supply adequate oxygen and nutrients to the growing tissues. These genetic factors can result in high mortality rates if not addressed.
Weak Genetic Traits: Some Cornish Cross broilers may inherit weak genetic traits that make them more susceptible to various health problems and ultimately increase the risk of mortality. These traits can include compromised immune systems, poor disease resistance, or reduced overall vitality. Weak genetic traits can result from improper breeding practices, inbreeding, or the use of low-quality breeding stock.
Selecting High-Quality Breeding Stock: To minimize the impact of genetic factors on the health and survival of Cornish Cross broilers, it is crucial to source high-quality breeding stock from reputable hatcheries or breeders. These sources should have a strong breeding program focused on producing healthy and genetically robust birds. Selecting birds with desirable traits, good conformation, and a history of low mortality rates can help mitigate genetic issues in subsequent generations.
Regular evaluation and culling of breeding stock can also help remove birds with poor genetic traits from the breeding pool. Working with reputable breeders or consulting with poultry genetics experts can provide valuable guidance on selecting and managing breeding stock to minimize genetic issues and reduce mortality rates.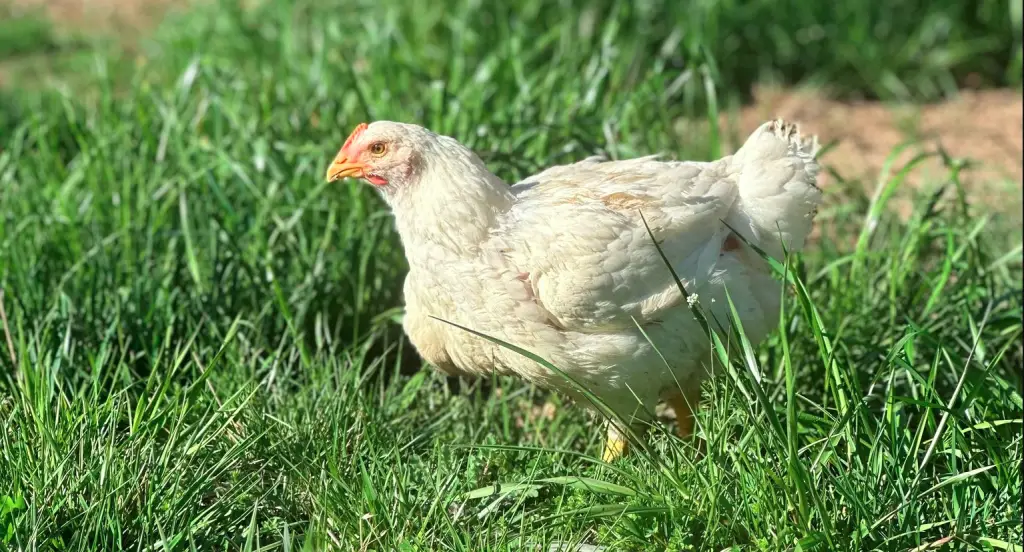 Causes of Mortality
Description
Prevention & Solutions
Water Belly (Ascites)
A condition where the lungs and heart of the chicken cannot support the oxygen demands of the fast-growing body. Symptoms include abdominal swelling and difficulty breathing. High mortality rates.
– Provide well-ventilated housing to minimize ammonia buildup.
– Manage temperature and humidity levels in the chicken house.
– Ensure proper ventilation and airflow to prevent respiratory issues.
– Monitor feed intake and quality to prevent excessive weight gain.
– Select slower-growing or dual-purpose breeds.
Flip Over Disease
Sudden death syndrome where chickens are found dead, lying on their backs, with no warning or symptoms. Primarily affects fast-growing meat birds. No known cure or symptoms.
– Use slower-growing breeds that are less prone to sudden death syndrome.
– Ensure proper nutrition and avoid overfeeding.
– Monitor bird behavior and identify any signs of distress or illness.
– Provide a clean and stress-free environment.
Heat Stress
Inefficient heat management due to rapid growth and muscle mass. Signs include panting, rapid breathing, outstretched wings, loss of appetite, diarrhea, and lethargy. Can lead to death if not treated.
– Provide shade and access to cool, fresh water.
– Ensure proper ventilation and airflow in the chicken house.
– Use fans or misters to reduce ambient temperature.
– Avoid overcrowding and provide adequate space for birds.
– Monitor and manage temperature levels during heatwaves.
Cold
Slow feathering makes them susceptible to cold temperatures. Pilling and injuries may occur. Provide heating and observe behavior for signs of cold stress.
– Provide adequate insulation and draft-free housing.
– Use heat lamps or heating pads to maintain appropriate temperatures.
– Observe chickens for signs of cold stress and adjust heating accordingly.
– Ensure access to dry bedding and shelter from cold drafts.
Trauma (Accidents)
Physical injuries from impacts, piling, or accidents in the coop or tractor. Signs include lethargy, lack of movement, and lower activity levels. Injuries may lead to starvation and death.
– Ensure a safe and well-designed coop or tractor to minimize potential hazards.<br>- Provide enough space and perches to prevent piling.
– Monitor birds for signs of aggression or bullying.
– Handle chickens with care and avoid rough handling.<br>- Address any injuries promptly and provide appropriate care.
Infectious Diseases
Highly contagious diseases like respiratory infections, bacterial infections, and mycoplasma infections. Symptoms vary but can include respiratory issues, diarrhea, and increased mortality.
– Practice strict biosecurity measures to prevent the introduction and spread of diseases.
– Isolate new birds before introducing them to the flock.
– Vaccinate chickens against common diseases.
– Maintain cleanliness and hygiene in the coop.
– Consult a veterinarian for proper diagnosis and treatment.
Parasites
External parasites (mites, lice, fleas, ticks) and internal parasites (worms) weaken the immune system and increase vulnerability to diseases and mortality. Regular inspection and treatment are necessary.
– Implement a regular parasite control program with appropriate treatments.
– Inspect birds regularly for signs of external parasites (lice, mites) and treat them promptly.
– Administer deworming treatments at appropriate intervals.
– Maintain clean and sanitary coop conditions.
The table provides a concise overview, but it is important to refer to the original text for more detailed information and guidance on prevention and treatment measures.
Conclusion
In conclusion, mortality is a significant challenge when raising Cornish Cross broiler chickens. Understanding the potential causes of death can help implement preventive measures to ensure the birds reach maturity. Various factors contribute to mortality, including water belly (ascites), flip over disease, heat stress, cold temperatures, physical injuries, infectious diseases, parasites, and nutritional issues.